Agriculture solutions from our hands to your farm
Our team at Sambrailo builds and delivers innovative produce packaging solutions to farmers, retailers, and consumers to create a packaging experience to remember.
Over four generations, our team at Sambrailo has built a foundation of packaging innovations, services, and products for the industry that help our customers do what they do best.  We are proud to be a part of an incredible community of farmers, shippers, retailers, and consumers that have supported us throughout our near centennial legacy.
From all of us at Sambrailo –
Thank you for being a part of our journey, here's the next 100 years!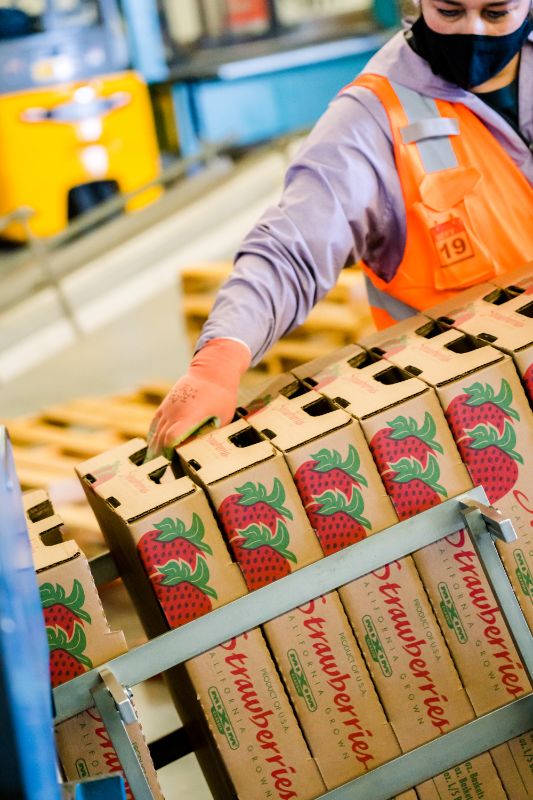 Packaging Resource Management
Explore our fully customizable suite of agricultural packaging services, from tray make up, real time inventory, product development, to traceability and more.
Our packaging resource management team works with your team on creating the best solutions for your packaging needs and operation. Let us help you with packaging and you do what you do best – grow.
Our guiding principle for all our products has been and remains to be "do what is best for the produce".  From wood crates for apples, floral boxes, row crop cartons, introducing the first berry clamshell, to leading the charge for sustainable produce packaging with ReadyCycle®, we continue our legacy of innovative packaging solutions and services for the industry and our customers.
All of our solutions are customizable for your packaging operations, whether it be for grocery retail, farmers markets, produce stands, csa programs, or grocery delivery service.  Our team is here to help make your packaging needs simple.
"The moment I put berries in Sambrailo's ReadyCycle packaging and brought them to the stores, the customers just went crazy for them. And they're willing to share in some of the cost." 
– Javier Zamora, JSM Organics, Aromas, CA
 "We choose to work with Sambrailo Packaging for many reasons. They produce an excellent product for our farm needs. The Sambrailo team is professional, kind, and great to work with. They're also incredibly generous, and connected with us at a very challenging time after the fires this year, providing help for us to recover. We will be forever grateful. We look forward to working with the Sambrailo team for many years to come."
– Chris Laughlin, Sea to Sky Farm, Santa Cruz, CA
"Working with Sambraillo has made packaging something we never have to worry about as a farm business – something that's incredibly valuable as we are small team juggling a diverse farm of over 50 different crops and a range of packaging needs. Sambraillo's team is helpful and professional, ensuring that our needs are always met to help keep our farm operation running smoothly. We also tremendously appreciate how Sambraillo went way out of their way to support our farm when we were affected by the wildfires in August 2020, which helped us get back on our feet and regain our stride after a very challenging time for us."
– Cole Mazariegos-Anastassiou, Brisa de Año Ranch, Pescadero, CA